Hand poured hand stamped offerings are a staple here at Curio Bullion but we're always looking for new tools, equipment and processes to up our game. Keep an eye out for more refined pieces in the future, after all we're just getting started. We strive to offer unique new items inspired by art, history and culture at competitive pricing to get more precious metal in your collection and to encourage and facilitate trade both within and without the community.
Thank you for joining us on this journey
The Maker
Ryan considers himself a full time hobbyist, he found himself drawn to all the creative classes available throughout his education, art, graphic arts, ceramics, wood shop, welding, etc. A decade creating graphics and cad's for the apparel industry working under a few amazing and eccentric designers helped to developed a unique aesthetic. The next 10 years+ was spent working hands-on building movie props, sets, prototypes and retail environments as well as creating 3D models and shop drawings. All the fun tools became available, laser cutters, 3D printers, and various CNC machines. Recently bit by the silver bug and having acquired an addiction to the glorious metal he currently finds great pleasure utilizing all his skills making unique hand made collectables.
Ryan Prochnau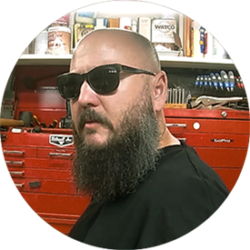 The Team
Maddie